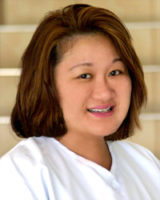 Soon after Dr. Risos began practicing dentistry, she realized that there was more to dentistry than the tooth. She started recognizing that dentistry is a true health profession and that it needs to be treated as so. She quickly began connecting the dots between what she was seeing in her cherished patients' mouths and their overall health, recognizing the oral-systemic connection between mouth and body.
Dr. Risos is devoted learning the skills necessary to become a Dental Sleep Medicine provider that can effectively treat patients. She has completed the Cosmetic/Aesthetic continuum of courses at UCLA School of Dentistry as well as intense post college courses in implants, occlusal equilibrium, and cosmetic digital imaging. She can now add to that list – obstructive sleep apnea for the dental patient! She completed her dental sleep medicine training at the UCLA Sleep Medicine Mini Residency.
Dr. Risos is a member of the American Academy of Dental Sleep Medicine (AADSM).