Dr. Deanna Risos is a sleep apnea dentist in Chula Vista treating patients from San Diego and many other surrounding areas. If you are suffering from obstructive sleep apnea, then you may benefit from the use of oral appliances Medical Therapy.
Custom Oral Appliances for Treating Obstructive Sleep Apnea in Chula Vista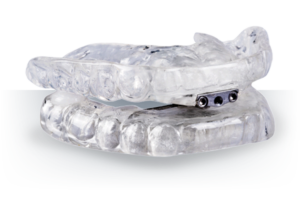 Custom oral appliances are a non-invasive, easy to use treatment option for obstructive sleep apnea. They work very well for mild to moderate cases of sleep apnea and are recommended by Dr. Risos.
Custom oral appliances are currently one of the best CPAP alternatives in treating obstructive sleep apnea. They are not to be confused with custom oral mouth guards.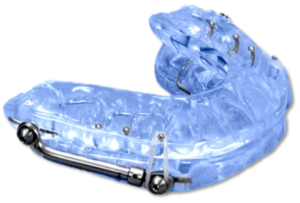 It's important to understand that custom oral appliances are not to be considered a cure to obstructive sleep apnea, but will help you improve the symptoms experienced by sleep apnea in order to allow you a good night's rest – which is vital for functioning on a daily basis and improve your quality of life.
Oral Appliances May Be Covered by Your Insurance!
Because these oral appliances are considered a medical device, they may be submitted to your medical insurance provider for coverage. Dr. Risos works with all of her patients to make sure they maximize insurance benefits.
CPAP Medical Therapy
After your evaluation, if Dr. Risos believes you are not a candidate for a custom-made oral appliance, then she will recommend to a sleep doctor for evaluation to CPAP therapy, which stands for Continuous Positive Airway Pressure (CPAP). These medical devices run a tube into the nasal passage, sending a stream of air into your airway to keep the tissues airway open, allowing oxygen to pass into the airway. They are often recommended for more severe types of obstructive sleep apnea.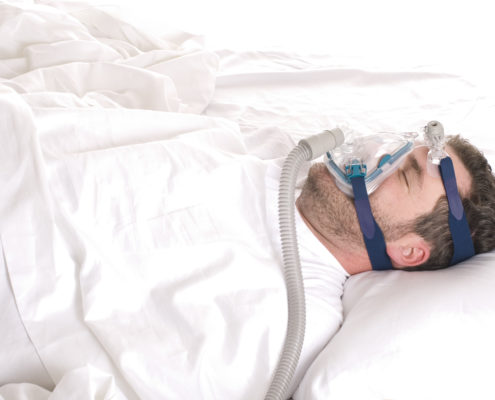 Find Out Which Option is Best For You!
A face to face evaluation is the best way to determine not only if you may be suffering from sleep apnea, but also which treatment option would be most beneficial depending on your needs. An evaluation with Dr. Risos will furnish insightful information on obstructive sleep apnea.
To schedule an appointment or learn more about insurance information, pricing information, or more then please call our office @ 619.482.8880 or contact us online.